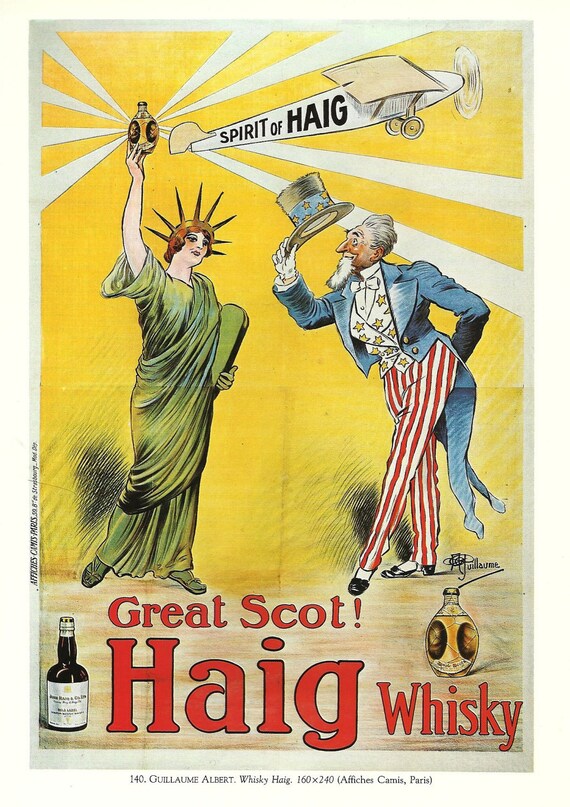 This advertisement, originally released in the 1940s, appropriates a number of American symbols in order to support its campaign. Advertising a Scottish whisky, commissioned from a French artist, its origins are a strange mixture of things both American and non-American.
The 1940s were, ostensibly, the time of greatest unifying patriotism among American citizens. "We" were fighting the good fight, our boys battling overseas to stop Hitler in his tracks, everyone back at home expected to pitch in and do their part for the war effort. So, naturally, in the height of this bombardment of American pride, companies would be looking for ways to maximize their profits based on the zeitgeist. Therefore, it makes sense that Heig, the Scottish whisky brand, would look to these most American of symbols in order to equivocate their brand with the same ideals that were important to the American people.
By replacing Lady Liberty's torch with a bottle of whisky, advertisers could not be more clear about their intended message: Haig Whisky stands for freedom and enlightenment–though it may be from a foreign nation, its meaning is the same. If that weren't crystalline enough, the poster also depicts Uncle Sam–literally an embodiment of the United States–tipping his hat to it, all while a plane flies overhead proclaiming to bring the, "Spirit of Haig" along with it.
Liberty herself is depicted as a beautiful woman (because no matter the time period, sex still sells, after all). By lining her up with a Scottish whiskey, the advertisers hope to give the impression that they are not only on the side of the Americans, not only fighting for freedom, but also that support of their product is support of America itself–I mean, if the Statue of Liberty is displaying it to the world while Uncle Sam looks on in admiration, that's gotta tell you something, right?